How did we ever manage to cook before the arrival of the internet? I suppose we had to rely on cookbooks, cooking tv shows, and knowledge handed down from our grandmothers. Of course, the more daring would experiment in the kitchen, remembering the successes, and mercifully forgetting any culinary disasters.
Nowadays we have a multitude of food blogs offering mouth-watering recipes, suggestions, and vivid photography, sending us straight to the kitchen … or the supermarket. There are hundreds of food blogs to tempt your taste buds. Here are 12 of the best food blogs, offering a variety of food types.
---
1. Love and Lemons
2. Cookie and Kate
3. Minimalist Baker
4. Smitten Kitchen
5. 101 Cookbooks
6. Budget Bytes
7. Closet Cooking
8. Damn Delicious
9. Green Kitchen Stories
10. Serious Eats
11. Sprouted Kitchen
12. Two Peas & Their Pod
---
1. Love and Lemons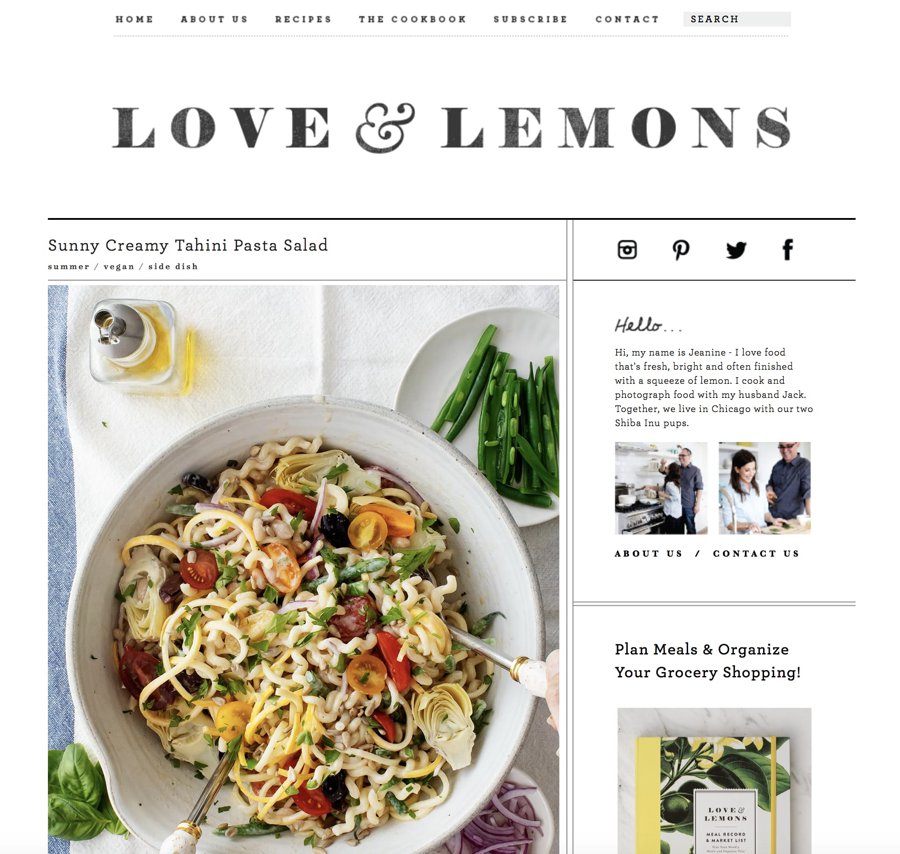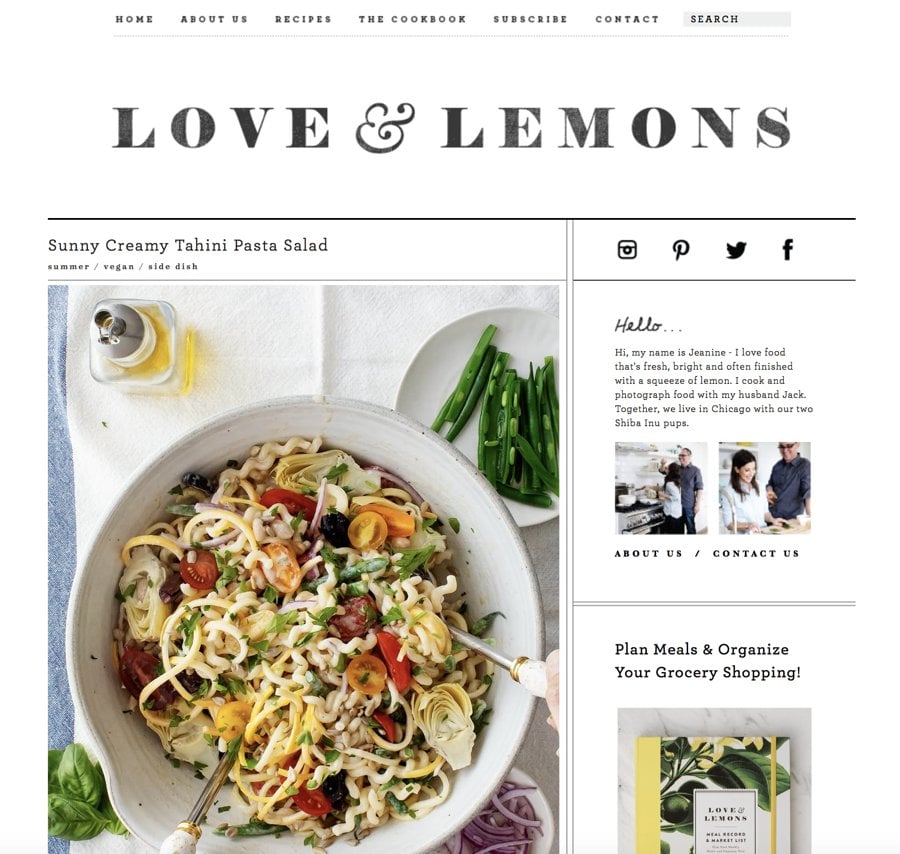 Website: loveandlemons.com
Love and Lemons has been created by Jeanine Donofrio and her husband, Jack Mathews ("#1 taste-tester"). The blog's name comes from the fact that Jeanine loves seasonal food, often finished off with a squeeze of lemon.
Most of the recipes on the site are vegetarian.
The blog was founded in 2011 and has been recognized by prestigious food magazines like Food & Wine, Food52, Refinery29, SELF Magazine, and Oprah Magazine. It was named Readers' Choice Best Cooking Blog by Saveur Magazine in 2014 and won a Saveur Editor's Choice award in 2016.
If you are looking for a recipe, you can filter your search by season, holiday, special diet, meal type, or ingredient. Surprisingly there are only six recipes under the ingredient, lemon.
---
2. Cookie and Kate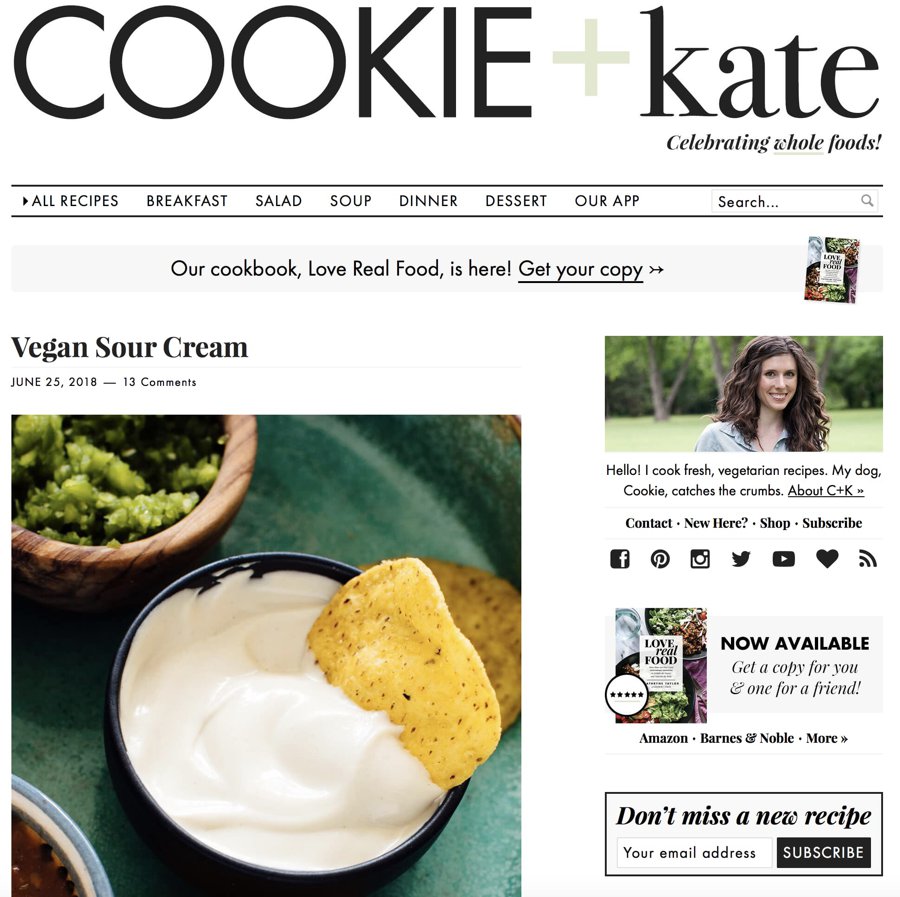 Website: cookieandkate.com
Cookie and Kate is all about celebrating good food. Kate is Kathryne Taylor. Cookie is her dog – which Kate describes as a "mystery mutt," or as a DNA test found, half schipperke and half dachshund/Australian koolie mix.
Kate is a photographer and cook from Oklahoma. She created the blog in 2010 and now works on it full-time.
Like many of the other top food blogs featured here, Cookie and Kate features vegetarian and whole food recipes.
The site makes it easy to search for recipes. You can look for recipes by Course, Cuisine, Diet, Everyday, Ingredient, or Season.
---
3. Minimalist Baker
Website: minimalistbaker.com
Minimalist Baker is one of those sites where the name says it all. It shares plant-based recipes requiring 10 ingredients or less, 1 bowl, or 30 minutes or less to prepare. It publishes a new recipe every three days, with a mixture of savory and sweet dishes.
Dana Shultz is the recipe developer and blogger. She has a deep love for recipe experimentation and food photography. She has even expanded into creating a Essentials of Building a Great Food Blog Course.
Despite the use of the word "baker" in the site's name, it covers many different types of (predominantly vegan) cooking – sweets, entrees, breakfast, snacks, sides, and beverages.
---
4. Smitten Kitchen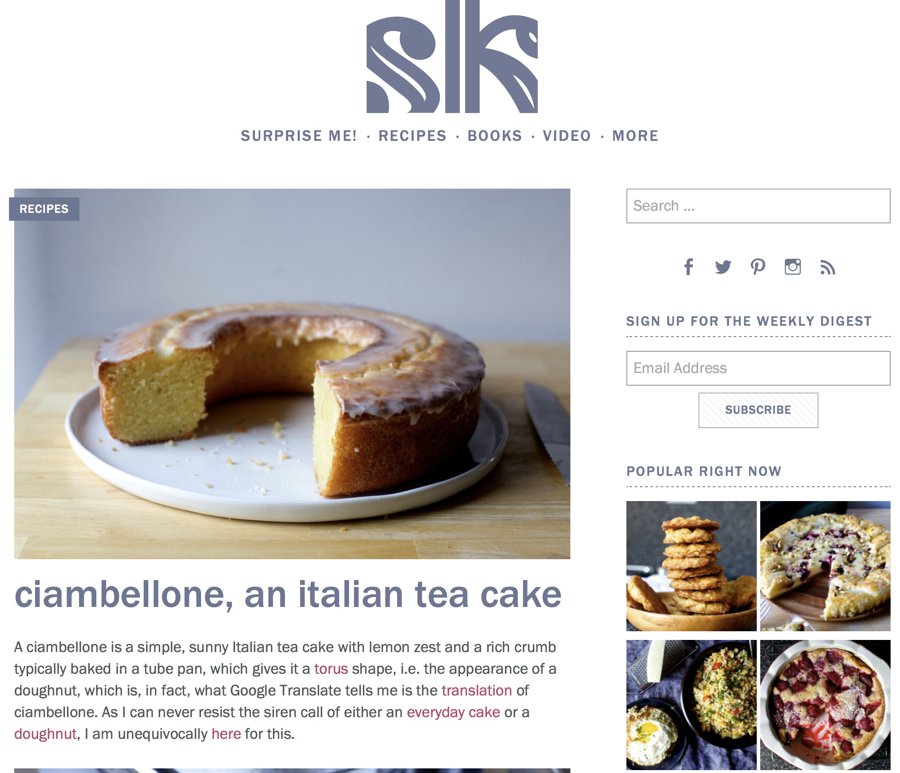 Website: smittenkitchen.com
Smitten Kitchen features delectable images of meals demanding to be eaten. Therefore should be no surprise that Smitten Kitchen has found great popularity with serious food fans.